ABA Alumni Ejim and Uguak are Going to March Madness!
---
---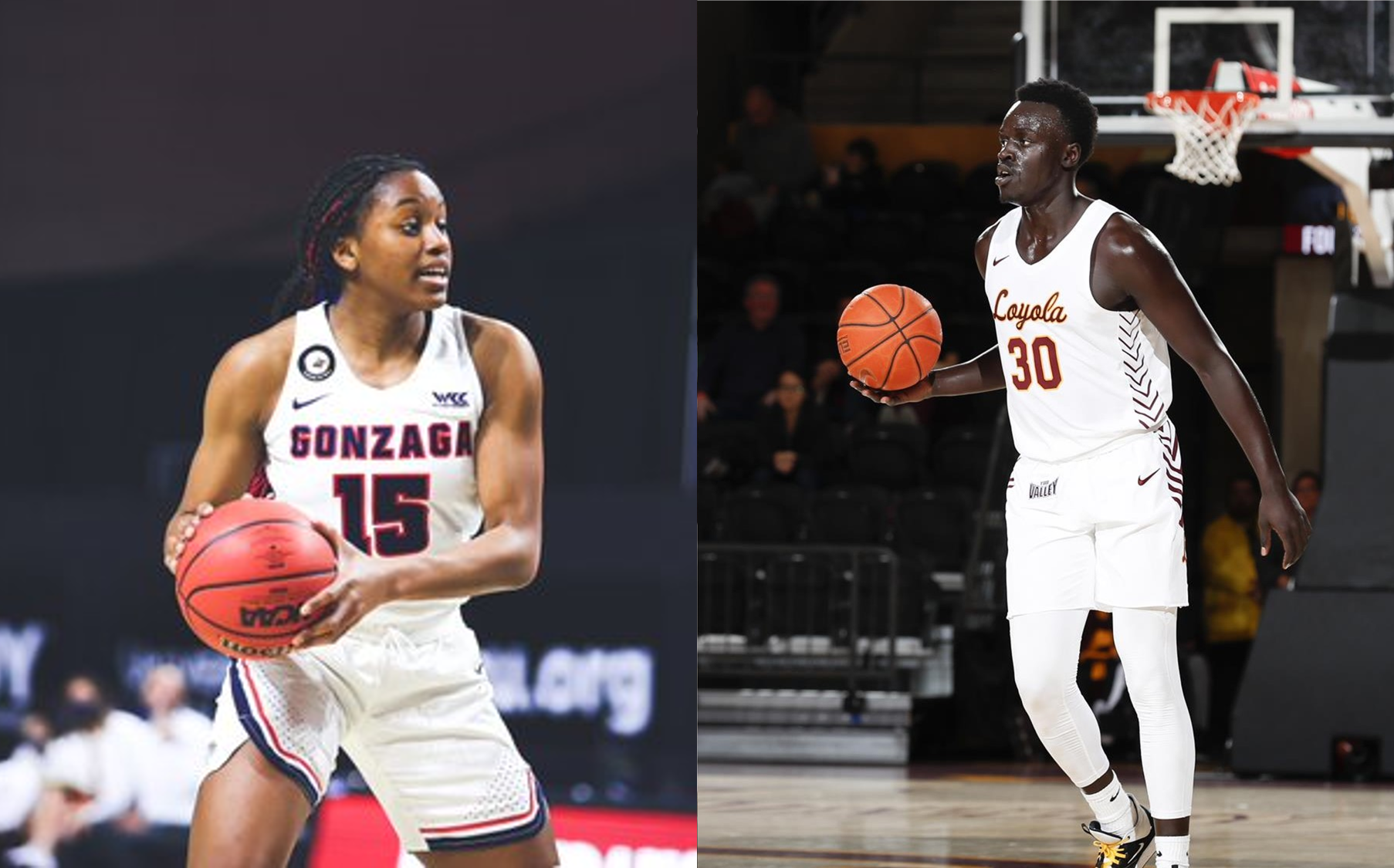 ---
Alberta Basketball Association (ABA) alumni Yconne Ejim and Aher Uguak have each received their invites to the March Madness ball.
Now it's time to go dancing.
Ejim is headed to the 2021 NCAA Women's Basketball Tournament, while Uguak will be part of the 2021 NCAA Men's Basketball Tournament.
Calgary's Ejim is a freshman forward with the Gonzaga Bulldogs, who qualified for the women's tourney by winning the West Coast Conference (WCC) Championship. Edmonton's Uguak is a senior forward for the nationally ranked Loyola Ramblers, who punched their ticket to the men's tournament when they won the Missouri Valley Conference (MVC) Championship.
The women's tournament is scheduled for March 21 - April 4 in San Antonio, Texas. The men's tournament takes place in Indiana, March 19 - April 5.
Ejim is having a great first year with the Bulldogs, shooting .619 from the field over 24 games played. She was named to the WCC All-Tournament Team after leading the Bulldogs with 13 points and 9 rebounds in Gonzaga's dramatic 43-42 victory over BYU in the WCC Championship Game on March 8.
In the last season of his college basketball career, Uguak has taken his game to a new level for the nationally ranked Ramblers, who defeated Drake 75-65 on March 7 in the MVC Championship Game. He was named to All-MVC Third Team, MVC Most-Improved Team and MVC All-Defensive Team.
It is very exciting to see two athletes from our province play key roles on their respective teams in helping them win their conference tournament championships," says Paul Sir, ABA Executive Director. "Both programs are now guaranteed a spot in the NCAA March Madness Men's and Women's Championships. What an accomplishment for Edmonton's Aher Uguak at Loyola of Chicago and Calgary's Yvonne Ejim at Gonzaga. The Alberta Basketball Association wishes them all the best and hopes they make a deep run this postseason."
Playing in March Madness will be a new experience for both ABA alumni. Uguak had redshirt status in 2018 when Loyola reached the Final Four, making him ineligible to compete, though he did get to travel with the team.
Prior to Gonzaga, Ejim went to Edge School for Athletics. She was part of Team Alberta at the Basketball Canada National Championships in 2016 (U15), 2018 and 2019 (U17), and represented her province at the 2017 Canada Summer Games.
A graduate of Harry Ainlay High School, Uguak spent three years as part ABA's provincial program, suiting up for Team Alberta 15U in 2012 and 2013, and Team Alberta 17U in 2014.
Tournament brackets, with dates and times and match-ups will be unveiled on March 14 (men's) and March 15 (women's).
Good luck to Yvonne and Ejim!