Team Alberta alumni Krikke and Uguak set to make NCAA hoops history
---
---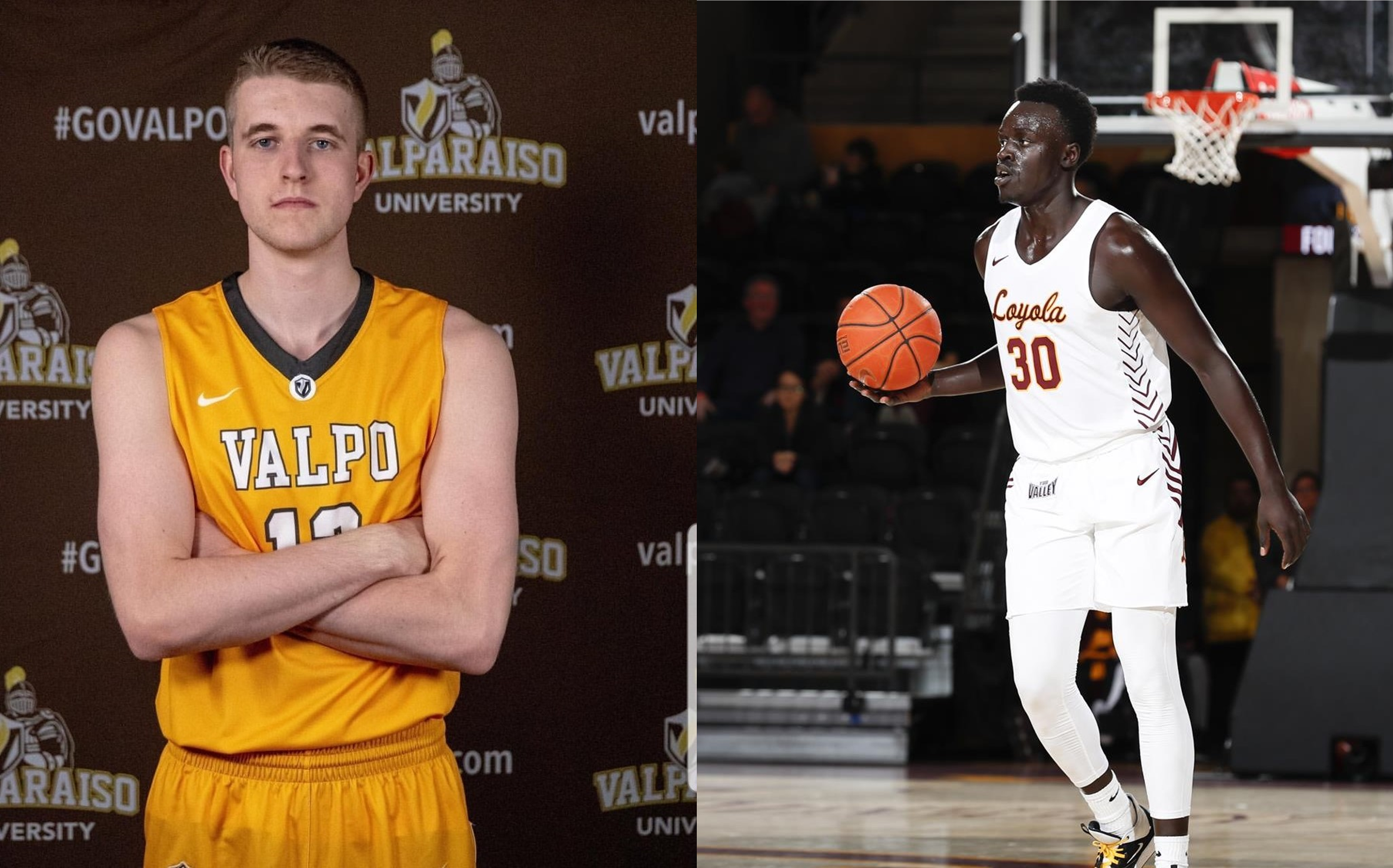 ---
For the first time two Edmontonians will play each other in an NCAA Division 1 basketball game.
Ben Krikke and the Valparaiso Crusaders will play host to Aher Uguak's Loyola Chicago Ramblers in their Missouri Valley Conference regular season opener, 5 p.m. MT on Monday (Dec. 30) at the ARC in Valparaiso, Ind.
The six-foot-nine Krikke is a freshman forward from Jasper Place High School, while Uguak is a six-foot-seven junior forward who attended Harry Ainlay High School. Both grew up in Edmonton and spent several years as part of the Alberta Basketball Association (ABA) provincial team program.
"Aher and Ben competing against each other in the historic Missouri Valley Conference is a milestone for Edmonton basketball," says Paul Sir, ABA Executive Director. "ABA is excited for them and happy that our organization was a part of their development. They will inspire young players with their example of what can be accomplished through hard work."
A regular in the Ramblers starting lineup, Uguak has averages of 5.5 points, 3.4 rebounds and 2.4 assists through 13 games this season. Krikke has quickly became a key contributor off the bench for the Crusaders, averaging 6.3 points and 2.6 rebounds while shooting 52.1% from the field in 11 games.
Loyola heads into the MVC regular season with an 8-5 overall record, just ahead of the Crusaders, who went 7-6 on their non-conference schedule.
Uguak spent three years as part Alberta Basketball's provincial program, suiting up for Team Alberta 15U in 2012 and 2013, and 17U in 2014. He attended Harry Ainlay from Grade 10 to 12, and helped the Titans win the ASAA 4A championship in all three of his seasons, 2013-14, 14-15, and 15-16.
After spending his freshman year at New Mexico University, where he played 19 games for the Lobos in 2016-17, Uguak transferred to Loyola. He was a redshirt in 2017-18 and became the first Team Alberta alumni to be part of an NCAA Final Four team when Loyola made a Cinderella Run in the NCAA Tournament. Last season, he played 34 games for the Ramblers, starting 28, and averaged 5.8 points, 3.5 boards, and 1.0 assists.
Krikke spent four years with Alberta Basketball's provincial teams. He is a two-time all-star at the Canada Basketball National Championships (2016 15U Second Team and 2018 17U Second Team) and won a silver medal with Team Alberta at the 2017 Canada Summer Games.
He graduated in 2019 from Jasper Place, where he helped the Rebels win both the city and provincial titles in his Grade 12 year and was named MVP and won the slam dunk contest at the 2019 Alberta Basketball All-Star Showcase. He has represented his country on multiple occasions, including the 2018 FIBA U17 World Cup and won silver with Team Canada at the 2017 FIBA U16 Americas Championship.
Including San Diego freshman Sabry Philip, who attended Harry Ainlay and spent multiple years with ABA's provincial teams, there are currently three Edmonton natives in Division 1 men's basketball.
Loyola and Valpo will meet again in Chicago on Feb. 9.
Monday's game will be available in the United States on ESPN+. Fans in Edmonton can listen to the radio broadcast at https://tunein.com/radio/WVUR-FM-951-s23659/.