Hoops trio inducted into Alberta Sports Hall of Fame
---
---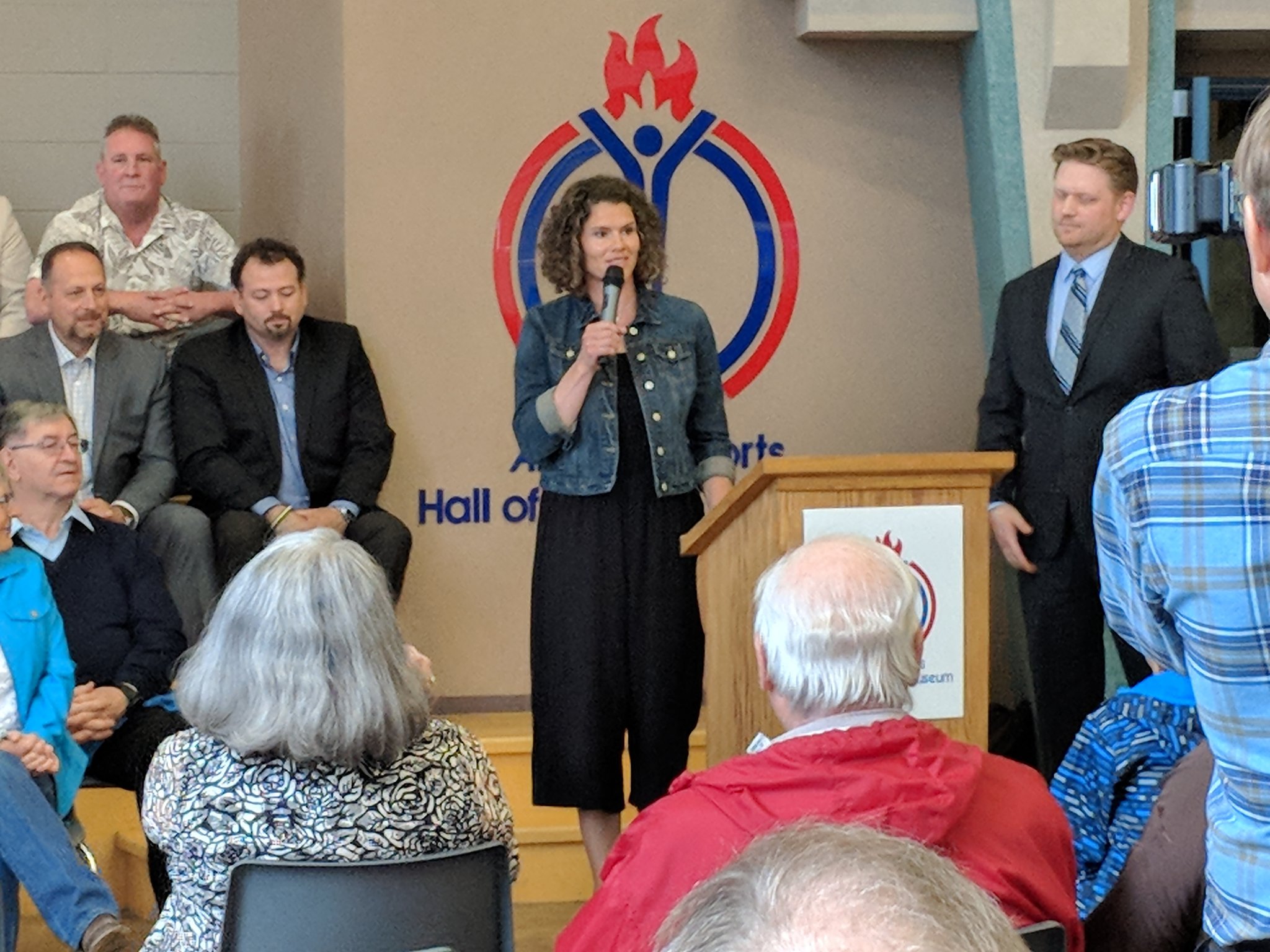 ---
Basketball was well represented at the Alberta Sports Hall of Fame induction banquet in Red Deer on June 1, when the late Phil Allen, Robert Davies, and Leighann Doan Reimer were among the Hall of Fame class of 2018 honoured for their contributions to sport in Alberta.
Alberta Basketball Association executive director Paul Sir attended the gala evening to help celebrate the hoops trio.
Phil Allen - Builder category
Phil Allen was monumental in the development of basketball in Alberta. He shared his passion and knowledge for the game with Edmonton's youth through the development of the club basketball system. Beginning his coaching career as Head Coach of the SAIT Trojans in 1978, Phil also coached teams at Grant MacEwan and Lakeland College. In 1979, he coached the Canadian Men's Wheelchair Basketball Team at the International Gold Cup. He led his many teams to 10 ACAC Provincial Titles, including seven in a row from 1980-1986. In his ten national tournament appearances, his teams won 2 gold, 4 silver, and 2 bronze medals. A coach for 28 years, he set the record for the most wins as a men's basketball coach in ACAC and CCAAC history with 805 wins. He also holds the record for most games coached in Men's ACAC history. Phil received the 1983 CCAA Men's Basketball Coaching Excellence Award and was inducted into the ACAC Hall of Fame in 2014. Phil passed away in 2016.
Robert Davies - Pioneer Award
Robert 'Bob' Davies was a passionate participant in all aspects of basketball for more than 50 years. Starting in the early 1950s, he coached, refereed, managed, established, and promoted basketball in the Edmonton leagues, Albertan Associations, and Canadian Associations. He was on the executive of both the Edmonton Basketball Association and the Alberta Basketball Association. Bob served on the organizing committees that created the Edmonton Basketball Officials Association and the Alberta Basketball Officials Association. He coached boys and girls teams at the community, junior, and senior high school levels, as well as coached teams to national competitions. He organized adult basketball leagues and tournaments and established formal playoffs and interleague play throughout Alberta. Bob provided much-needed leadership and organization which left a lasting legacy for basketball in the province.
Leighann Doan Reimer -Athlete category
Leighann Doan Reimer was an outstanding basketball player for the University of Calgary Dinos from 1997 to 2001. In her inaugural year, she was named the CIS Women's Basketball Rookie of the Year. At the end of her five years with the team, she had left her mark as the all-time leading scorer with 1,958 points and averaged 20.8 points a game. Leighann was named 2001 CIS Athlete of the Year - Borden Ladner Gervis Award Winner and awarded the 2000 and 2001 CIS Women's Basketball Player of the Year. She was a four-time First Team All- Canadian and a four-time Academic All-Canadian. While in Spain, she was Captain of the Women's Basketball Universiade team and was awarded the honour of Torch Bearer at the 2001 World University Games in China. After University, Leighann played professional basketball in France from 2001 to 2004. During that time, she also played on the Canadian women's national team and competed at the 2003 Pan Am Games and the FIBA Americas (zone) Olympic qualification tournament. In 1999, she was named the City of Calgary's Female Athlete of the Year and captain of the women's basketball Universiade team in Spain. Reimer was also a member of the Canadian