Alberta Basketball 3x3 Day 2 recap: Bears win Canada Quest title
---
---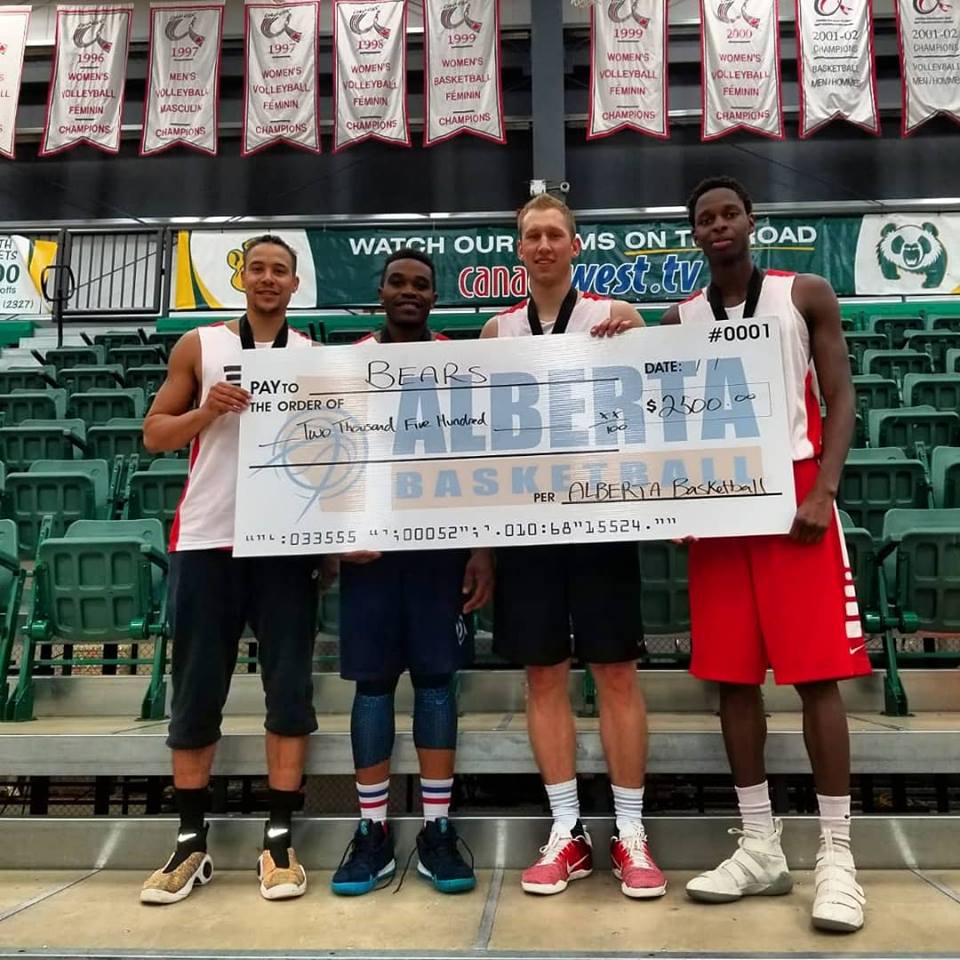 ---
The eighth annual Alberta Basketball 3x3 wrapped up at the Saville Community Sports Centre in Edmonton on Sunday with a thrilling match-up between two teams stocked with local legends.
The Bears, comprised of University of Alberta alumni, held on to defeat Air Force, a foursome of former MacEwan University student-athletes, 21-20 in the Canada Quest elite division final.
With the victory, the Bears earned berths at the upcoming Canada Quest 3x3 National Championship, which will be held at the Saville Community Sports Centre July 6-8, and the FIBA 3x3 Edmonton Challenger, which takes place at West Edmonton Mall on September 21-23. The Bears also take home $2,500 in prize money, while Air Force collects $1,000 as second-place finishers.
The Bears' lineup of Jordan Baker, Joel Friesen, Mamadou Gueye, and Kenny Otieno are the newest Alberta Basketball 3x3's first new Canada Quest division champions after a five-year reign by Team Saskatoon. Team Saskatoon, which features Edmonton's Steve Sir, was unable to compete this weekend due to their international FIBA 3x3 Challenger schedule. It's the second Alberta Basketball 3x3 Canada Quest title for Baker and Friesen, who were members of the inaugural championship squad in 2012.
Both the Bears and Air Force finished atop their respective pools with a 4-0 record on Saturday, before advancing with wins in the semi-final and quarter-final rounds on Sunday.
Air Force's roster included Denzel James, Lee Danderfer, Kenneth Johnson and Ryan May.
The Canada Quest division featured ten teams from across the Prairies, and served as a tremendous showcase for the unique skill and abilities required to excel at 3x3 basketball, exhibited by an accomplished group of athletes that included All-Canadians, Canada West All-Stars, and pro basketball champions.
The eight annual Alberta Basketball 3x3 included 60 teams ranging from Uunder-11 to adult divisions. The Summer of 3x3 in Edmonton continues next month when eight of the best teams from across the country gather at the Saville Community Sports Centre for the Canada Quest 3x3 National Championship.
Results from every division available here
ALL-TIME ALBERTA BASKETBALL 3x3 CANADA QUEST CHAMPIONSHIP TEAMS:
2018 - Jordan Baker, Joel Freisen, Mamadou Gueye, Kenny Otieno
2017 - Nolan Brudehl, Mike Lieffers, Michael Linklater, Steve Sir
2016 - Nolan Brudehl, Mike Lieffers, Michael Linklater, O'Neil Gordon
2015 - Nolan Brudehl O'Neil Gordon, Mike Lieffers, Michael Linklater
2014 - O'Neil Gordon, Mike Lieffers, Michael Linklater, Willie Murdaugh
2013 - Troy Gottselig, Mike Lieffers, Michael Linklater, Trevor Nerdahl
2012 - Jordan Baker, Dom Coward, Joel Friesen, Jarred Ogunbomi